Three EEB scientists will help build NSF Biology Integration Institutes
Release Date: Aug 16, 2022
Aug. 16, 2022
Three EEB core faculty members will be engaged in establishing two of the four National Science Foundation (NSF) Biology Integration Institutes, a $38 million five-year investment that acknowledges answering big questions in biology requires interdisciplinary research and partnerships.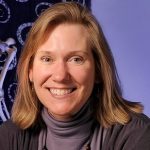 Evolutionary biologist Anne Bronikowski is part of BII: IISAGE - Discovering the mechanisms and evolution of aging differences between females and males. She recently joined MSU as a professor of integrative biology in the College of Natural Science (NatSci) and at the W. K. Kellogg Biological Station, or KBS.
The IISAGE Biology Integration Institute will determine how multiple biological processes contribute to differences in aging between females and males and uncover their evolutionary history.
Led by a team at the University of Alabama at Birmingham, the institute will also include a Research Experiences for Undergraduates program and a citizen science project that will engage K-12 students in after-school programs.
Bronikowski was part of an international team of scientists who published a the most comprehensive study of aging and longevity to date with data collected in the wild from 107 populations of 77 species of reptiles and amphibians worldwide in Science in June.
Elizabeth Heath-Heckman, an integrative biology assistant professor in NatSci and Kevin Liu, an associate professor of computer science and engineering in the College of Engineering, will help establish BII: INSITE: Institute for Symbiotic Interactions, Teaching, and Education in the Face of a Changing Climate. The new institute brings together a multi-disciplinary team at the University of California at Merced, MSU, and Resilient Oceans to identify key threats of climate change through a symbiotic lens.
The NSF notes that since all plants and animals engage in a broad spectrum of interactions with microbes, it is important to assess how hosts and their microbes will respond to this rapidly shifting climate.
Both centers are funded at $12.5 million over five years. The awards will support research by 53 investigators at 27 institutions, including three minority-serving institutions, across nine states. Education and training efforts will involve students from kindergarten to the postdoctoral level. The institutes join 10 established facilities with hundreds of researchers across 25 states.
"Life is complex, takes many forms, and adapts to many environments," said NSF Assistant Director for Biological Sciences Joanne Tornow. "To understand it, we need to bring together researchers from many areas of science, inside biology and outside it. In addition to using integrative science to answer the grand challenges in biology, the institutes will integrate new voices and broaden participation in biology through their education, training and broader impacts work."
The other two institutes are:
The Viral Emergence Research Initiative, or VERENA, led by researchers at Georgetown University, will use artificial intelligence, machine learning and experimentation to study the ways viruses and their hosts interact, how the evolution of viruses was impacted by and impacts evolution in hosts, and how those interactions are changing due to a warming planet.
The Water and Life Interface Institute, or WALII, led by scientists at the Carnegie Institution of Science in Washington, D.C., will study how life interacts with water from the molecular level to organisms across plants, fungi and animals.