Scientists improve yield predictions based on seedling data
Release Date: Jan 8, 2020
Tags: Publication, Evolution, Research
January 8, 2020
A doctor diagnosing a 50-year-old patient based on a blood test taken during the patient's infancy would be unthinkable.
Anecdotally speaking, however, that's what Michigan State University scientists have done with corn. Using plant RNA data from 2-week-old corn seedlings, Shinhan Shiu, professor in the Departments of Plant Biology and Computational Mathematics, Science and Engineering and the Ecology, Evolution, and Behavior Program, has shown that farmers and scientists can improve adult crop trait predictions with accuracy that rivals current approaches using DNA, i.e. genetic data.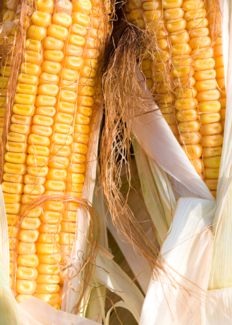 "Traditional breeding methods take months to years, which can be saved if we can predict the desirable traits just from DNA and RNA without growing them, without having to measure the actual traits directly," said Shiu, senior author of the paper appearing in the current issue of The Plant Cell. "To continue the human medicine anecdote, it's like sequencing an infant's RNA and analyzing what sort of traits the infant may develop later in life."
Shiu has long been fascinated with using computational approaches to resolve evolution and genome biology questions. A well-recognized grand challenge in biology is how to connect information in the DNA, or genotype, with traits, or phenotype. Solving this mystery is fundamental to understanding how genetic information is translated into outward traits in any species, Shiu said.