NSF-funded project to track genetic adaptation to environmental change
Release Date: Aug 31, 2020
Tags: NSF, Evolution, Ecology, Grant
August 31, 2020
The dual perils of habitat loss and increased extreme climate events are putting stressors on plants and animals, particularly those found in small and isolated populations. It's often not clear what determines whether these populations will go extinct or rapidly adapt to stressful changes in their environments.
Michigan State University integrative biologist Sarah Fitzpatrick is set to investigate the genetic factors that facilitate or limit adaptation to environmental change, with the help of a three-year, $858,000 grant through the National Science Foundation Division of Environmental Biology's new Bridging Ecology and Evolution program.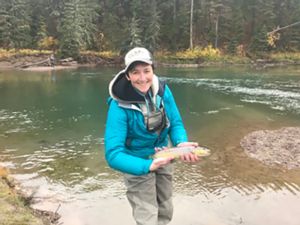 MSU's Sarah Fitzpatrick will use her NSF funding to gain a mechanistic understanding of the genetic factors that facilitate or limit adaptation to environmental change, with a goal of implementing this tool in conservation and management efforts. Courtesy photo
The grant, which begins on Sept. 1, will fund a study examining whether small populations that received an influx of new genes, through a process termed "genetic rescue," can adapt faster to a stressful environment and avoid extinction compared to those that have not.
To get at that question, Fitzpatrick—the project's principal investigator—and her colleagues will study eastern mosquitofish in a large array of outdoor mesocosm tanks, heated to stressful levels. Each population will have a known genetic background.
"Mosquitofish are like the fruit flies of the vertebrate world," said Fitzpatrick, an assistant professor in the Department of Integrative Biology (IBIO), the Ecology, Evolution, and Behavior Program, and a W.K. Kellogg Biological Station faculty member. "We can manipulate and study their evolutionary history and watch how that plays out in real populations in semi-natural conditions in real time."
Read more at NatSci.