MSU scientists conduct largest freshwater insect census in U.S.
Release Date: Jan 29, 2021
Tags: NASA, Conservation, Publication, Ecology
Categories: News, Non-featured News
January 29, 2021
When it comes to census taking, people are not the only ones who count.
As the country completes its 2020 Census—the 23rd in U.S. history—researchers in Michigan State University's College of Natural Science have completed the largest census of freshwater insects ever undertaken in the United States, the first of its kind.
The database includes 2.05 million occurrence records for 932 genera of major freshwater insect orders at more than 51,000 streams and rivers, an endeavor that tripled the number of geographic locations where freshwater insects are observed.
The open-access paper presenting the dataset, "Freshwater insects CONUS: A database of freshwater insect occurrences and traits for the contiguous United States," was recently published in the journal Global Ecology & Biogeography and was funded by a National Aeronautics and Space Administration (NASA) award and MSU.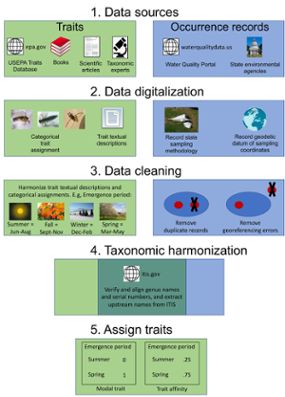 "The data for freshwater insects were not available at a continental scale for the United States, even though they were available for other places like Europe," said lead author Laura Twardochleb, who received her Ph.D. in the Department of Fisheries and Wildlife and Ecology, Evolution and Behavior (EEB) as a member of the Spatial and Community Ecology (SpaCE) Lab at MSU and is now a senior environmental scientist at the California Department of Water Resources.
Freshwater insects, which include beetles, flies, butterflies, moths, lacewings, water bugs and dragonflies, are the primary indicators of water quality and have been monitored in every state since the passage of the federal Clean Water Act in 1972. They are a major source of food for fish, birds, lizards, snakes, bats and spiders.
"Pretty much everything that can will eat them near water bodies," Twardochleb said.
"This paper fills a major data gap," said Phoebe Zarnetske, associate professor in the Department of Integrative Biology and EEB, and Principal Investigator of the MSU SpaCE Lab. "These trait and occurrence data will greatly improve the ability to understand and predict patterns of freshwater insect biodiversity because in addition to harmonizing previous databases, we added trait information like feeding style, movement habit, body size and thermal preference for 1,007 stream insect genera.
"An essential part of this research is our data workflow that harmonizes data from disparate sources and includes code and instructions for using the database," Zarnetske continued. "The data workflow and open-access publication ensure these data follow the FAIR principles of scientific data—findable, accessible, interoperable and reusable."
Read more at NatSci.