MSU postdoc receives grant to study Icelandic stickleback genome
Release Date: Jun 2, 2020
Tags: Grant, Evolution, Research
June 1, 2020
Whitley Lehto, a postdoctoral researcher in Janette Boughman's lab, was recently awarded an $8,000 Ecological, Evolutionary, and Conservation Genomics (EECG) Research Award from the American Genetic Association (AGA) to study epigenetics and plasticity in the Iceland stickleback.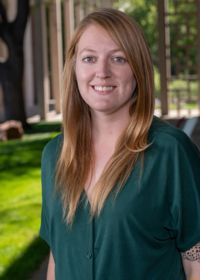 The AGA, whose mission is to encourage the study of comparative genetics and genomics to document, conserve and manage organismal diversity, grants EECG Research Awards to graduate and postdoctoral researchers who are at a critical point in their research, where additional funds would allow them to conclude their research work and to prepare it for publication. Seven awards were given among 59 applicants for funding this year.
Lehto's research is connected to the Boughman stickleback lab, which focuses on the process of diversification, including speciation and adaptive differentiation, and the way that different forms of selection shape this diversity. The lab investigates the threespine stickleback, a small fish that can adapt to a multitude of different environments in record time.
"Whitley's research plan is innovative," said Boughman, a professor in the Department of Integrative Biology and the Ecology, Evolution, and Behavior Program. "It really is a hot topic. She's exploring how nongenetic inheritance affects the process of rapid adaptation to novel environments. In other words, how plastic changes in parents are transmitted to their offspring and improve offspring fitness. The project is really exciting, as it opens avenues of research for fishes and other organisms faced with climate warming in the arctic."
In Iceland, Lehto will use her award to conduct field research on the threespine stickleback, which vary considerably in their sensory challenges and ages. The ability of an organism to change in response to stimuli or inputs from the environment, known as phenotypic plasticity, may facilitate adaptation. The aim of her project is to explore the role of epigenetic modifications, specifically DNA methylation, in mediating phenotypic plasticity across ecological and evolutionary timescales.
Read more at NatSci.