MSU part of NSF-funded project to digitize 1.2 million plant specimens
Release Date: Sep 14, 2020
Tags: Grant, NSF, Collections
September 14, 2020
Michigan State University is part of a multi-million-dollar grant to digitize and study bryophyte and lichen, two important types of plants that are hosts to what are known as cryptobiotic communities—hidden microorganisms that play a critical role in stabilizing soil, preventing erosion, absorbing rainfall, and providing nutrients for the growing plants around them.
Alan Prather, MSU plant biologist, director of the MSU Herbarium, and member of the Ecology, Evolution, and Behavior Program, along with colleagues from 25 institutions across the United States, recently received a three-year, $3.6 million grant from the National Science Foundation to image and to digitize associated metadata for close to 1.2 million lichen and bryophyte specimens housed in their respective collections.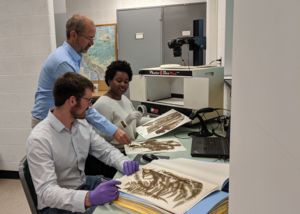 The project, "Building a Global Consortium of Bryophytes and Lichens: Keystones of Cryptobiotic Communities (GLOBAL)," will enable researchers from around the world to access specimen metadata and photos of the plants.
"Natural history collections are a physical record of our planet's biodiversity across space and time," said Jessica Budke, principal investigator of the project and director of the University of Tennessee, Knoxville Herbarium (TENN). "These specimens not only serve as records of the past, but they are a critical resource for our future. They help us to answer important questions surrounding invasive species and conservation biology, and to describe species that are new to science."
The MSU Herbarium was founded in 1863 with the donation of a large collection of plants from Michigan and the eastern United States. Centered on plant and fungal diversity from Michigan, the herbarium collection contains more than half a million specimens of plants and fungi, dating back to the early 19th century, from even before the university's founding—and is among the 50 largest herbaria in the United States. These plants serve as a record of the natural heritage of Michigan and can help scientists understand how habitat destruction, invasive species and climate change have affected our biota.
Additionally, the collection is rich in lichens from the Caribbean and the sub-Antarctic region. The lichen collection, with 120,000 accessioned collections, is among the 10 largest in North America and, because of its geographical scope, of international importance as a major resource for the study of lichens. For instance, 27 new lichen species were described from the MSU Herbarium collections in the past year alone.
"This nationwide project to digitize lichen and bryophyte collections could not be more timely," said Prather, associate professor in the MSU Department of Plant Biology in the College of Natural Science. "Because so many of us are working from home and many students are pursuing their education online, having museum resources online is a huge win for everyone. No longer will people have to come visit the MSU Herbarium to see our collections or to use them in education and research. Having the data in a format that can be downloaded and integrated with other data, for instance, climate data, enables these big data to be used in major research questions that we could not answer in the past."
Read more at NatSci.