Mariah Meek recognized for marine conservation research
Release Date: May 29, 2020
Tags: Conservation, Awards
May 29, 2020
Mariah Meek, assistant professor in the Michigan State University Department of Integrative Biology and the Ecology, Evolution, and Behavior Program, has received a prestigious 2020 Early Career Conservationist Award from the Society for Conservation Biology (SCB) for her outstanding contributions to the conservation of marine and freshwater ecosystems using genomic data.
All award winners are nominated by SCB groups that work regionally or topically to implement the society's mission to bridge the gap between the science and practice of conserving Earth's biodiversity.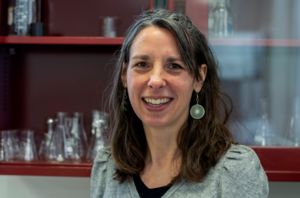 The Conservation Genetics Working Group (CGWG), which is interested in the application of genetics to the conservation of biological diversity, was impressed by Meek's many scientific contributions and demonstrated commitment to collaboration and communication with stakeholders, including the U.S. Geological Survey, U.S. Fish and Wildlife Service and the International Union for Conservation of Nature (IUCN). CGWG noted Meek's ability to conduct cutting-edge conservation genomics research while also showing dedication to the application of such research in conservation.
"I'm very honored to receive an Early Career Conservationist award from the Society for Conservation Biology," Meek said. "The incorporation of science in developing solutions to the world's conservation problems is so vital, and I'm proud to be a part of that process. It is an honor to be recognized for my work advancing our ability to use genetics to improve conservation and management."