Legacy of past weather inscribed in stories of prairie plant restoration
Release Date: Apr 6, 2020
Tags: Publication, Ecology, Research
April 6, 2020
Before there were farms in southwest Michigan, there were prairies. For thousands of years, tall grass prairies stood undisturbed until European settlers turned the rich, highly productive soils to agriculture.
Today, tall grass prairies East of the Mississippi are virtually extinct.
But some landowners want to return land throughout the Midwest to its incredibly deep roots, converting abandoned, depleted and fallow agricultural fields to native prairie—with varying degrees of success.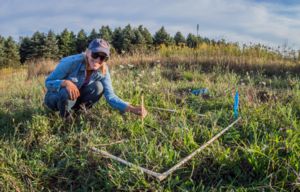 Michigan State University's Lars Brudvig, associate professor in the Department of Plant Biology and the Ecology, Evolution, and Behavior Program, and former MSU graduate student Anna Funk, investigated fields of data going back 20 years to find out why some replanted prairies are healthier than others. Their research was recently published in Scientific Reports.
"Native prairie plants are rare on the landscape, so land managers need to intentionally spread seeds on the ground for them to come back," said Brudvig, whose lab partnered closely with farmers, land managers and various nature conservancies across Illinois, Indiana and Michigan for the study.
Each of the 83 sites Brudvig and Funk studied started from roughly the same point and had similar processes of ecological management. Controlled burning, targeted herbicides and regular mowing were common strategies, but every site had widely different outcomes.