Disparities in biology textbooks explored
Release Date: Jun 26, 2020
Tags: Textbook, Postdoctoral researcher, Research, Publication
June 26, 2020
Researchers from four universities, including Michigan State University plant biologists and Ecology, Evolution, and Behavior members Marjorie Weber and Ash Zemenick, participated in a study to explore a potential demographic mismatch in scientists featured in biology textbooks and the students who use them.
The resulting research paper, "A scientist like me: demographic analysis of biology textbooks reveals both progress and long-term lags," was recently published in the biology journal Proceedings of the Royal Society B: Biological Sciences.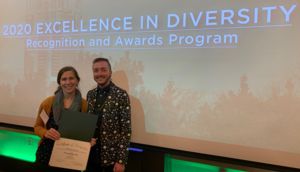 Marjorie Weber and Ash Zemenick accepting a 2020 Excellence in Diversity Award from Michigan State University's Office of Inclusion and Intercultural Initiatives for Project Diversify. Photo: Mary Zemenick
The team discovered that the most common scientists featured in textbooks are white men. However, women and scientists of color are increasingly represented in contemporary scientific discoveries. In fact, the proportion of women highlighted in textbooks has increased with the proportion of women in the field, indicating that textbooks are matching a changing demographic landscape.
"Seeing a diversity of scientist role models can have a tremendous impact on young minds," Weber said. "Every student should have the experience of seeing for themselves that scientists can be like them, and that they, in turn, can be a scientist."